Manufacturer & Exporter of Wet Mix Macadam Plant, WMM Plnat in India
"vinayak construction equipments" leading Manufacturer & Exporter of Wet Mix Macadam Plant also known as WMM plant, Wet Mix Plant is an utility designed product built as in keeping with M.O.S.T. specifications for achieving homogeneous mix material of WMM/C.T.A.B. / G.S.B. layer to prepare sub-base / base in road comstruction projects. We have rich experience in the field of civil construction machineries in road construction coupled with international best technology, assure, reliability and productiveness. In addition, our high quality control checks and wear tests ensures quality for all "VINAYAK" equipments.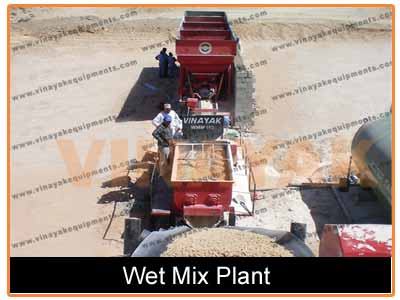 Usually the plant function mixture feeding system, a pug mill continuous mixer, water tank 15,000/20,000 Lit. Capacity, a storage silo and control panel. Sometimes to facilitate addition of cement within side the mix, the plant also can be supplied with a cement silo. The plants usually are stationary type with portable options also available. Our wet mix macadam plant come in the manufacturing capacities of 100 tph, 160 tph, 200 tph with full guarantee for the overall performance and output. Plant manufactured by us is known for their productivity and quality designed for easy and trouble free operation.
Modern Wet Mix Technology
Portable or Stationery
Easy To Operate
Designed For Domestic / International Market
Highly Accurate Aggregate Feeders
A Monoblock Water Pump
Capacity
C.T.A.B System
Vibrating Screen 1.1M3